This exhibition and performance is based on the workshop 
'Choreography may refer to the design itself' 
by Matylda Krzykowski. You do not find the original performance on this page, instead you see one of the work in progress videos.
The performance and exhibition 
is conducted with and by: 
Franziska Bax, 
Maxime Benvenuto, 
Oshin Siao Bhatt, 
Fernand Bretillot, 
Matilde Brizzi, 
Janfer Chung, 
Camille Guibaud, 
Lina von Jaruntowski, 
Jessica Rosalie Jones, 
Neal Jordan, 
Yeseul Kim, 
Eva Lotta Landskron, 
Jone Miskinyte, 
Pedro Lobo, 
Niels Postma, 
Emma Sfez and 
Camille Wiesel. 
The Master Program The Critical Inquiry Lab of the Design Academy Eindhoven is lead by Saskia van Stein and c
oordinated by Gijs de Boer. 
The graphic design team was conducted by 
Maxime Benvenuto, 
Lina von Jaruntowski, 
Eva Lotta Landskron and 
Pedro Lobo.
Special thanks to Simon Bus for his support in the development of this performance. 
Thanks as well to Alesya Dobysh and Roy Overdijk.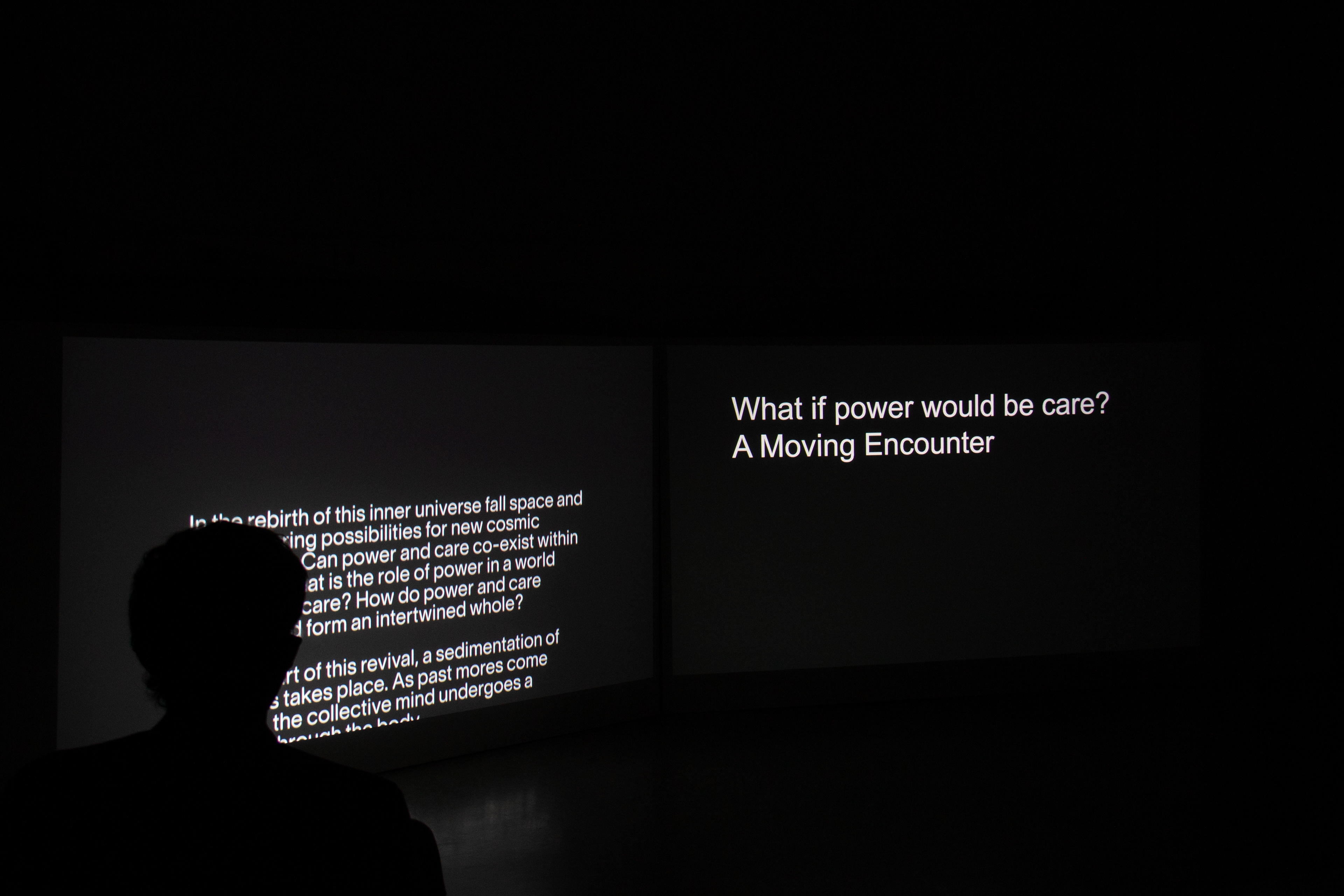 In the rebirth of this inner universe fall space and time, clearing possibilities for new cosmic reflections we wonder: Can power and care co-exist within oneself? What is the role of power in a world dictated by care? How do power and care overlap and form an intertwined whole?
At the heart of this revival, a sedimentation of iterations takes place. As past mores come undone, the collective mind undergoes a renewal through the body. The particles, floating in space, contemplate their endeavours. Among themselves, a dichotomous dialogue ensues reflecting on the spectrum of power and care. In an astral ballet, a constellation of questions expands exponentially within them. Through an encounter of motions, a narrative emerges echoing the troughs and falls of their inquiry.
Text by Oshin Siao Bhatt & Maxime Benvenuto